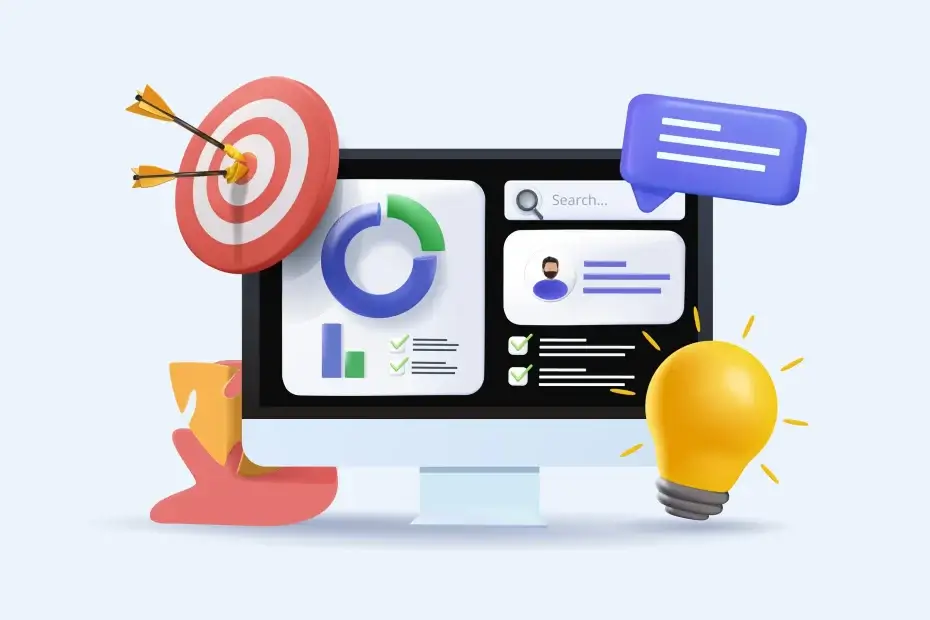 Are you an ecommerce brand that's struggling to compete in a crowded market? Are you an enterprise brand that needs to develop a digital marketing strategy to support your business goals? OR Are you a small business with limited time and budget and you need effective strategies to grow your brand awareness and visibility online?
Even if your answer is yes to all of the above, don't worry! You are not alone. The majority of businesses struggle with coming up with the right digital marketing strategy. In this blog post, we will give you 4 simple steps on how you can begin your digital marketing journey so that you can take advantage of the current opportunities and take your business growth to the next level.
Know Your Audience
Marketers often get so lost in their own bubble that they forget who the audience is. You need to know your audience inside and out. When you think about audience, you need to think beyond demographic data. You need to think about their desires, their interests, their pain points, their problems, their decision-making processes, and their buying journeys. You need to know where they are spending their time online, where are they getting their information from, and what are their common pain points. When you know your audience, you can create content that is more relevant, interesting, and engaging for them. You can also tailor your digital marketing strategies to suit their needs and interests. You can spot your audience by paying attention to your website and social media analytics reports. You can also use several free and paid tools to find out where your audience is spending their time online, what they are reading, and what they are talking about.
Define Your Goals
This is where you should decide what you want to achieve with your digital marketing strategy. It is also where you should understand your business goals and what you want to get out of your digital marketing initiatives. You should understand your overall objectives and be clear on the reasons behind your digital marketing decisions. You should also have a clear idea about what you want your marketing to achieve. Is it increasing brand awareness or brand recognition? Do you want to increase sales or online revenue? Do you want to increase the number of leads or website traffic? Do you want to increase the number of customers or the number of followers? Do you want to increase your online reputation? You can use the SMART goal setting method to clearly define your goals. With your goals in mind, you can create a digital marketing strategy that is more relevant and effective for your business.
Get to Know Your Competition
This is one step where you need to be ruthless. You need to be honest with yourself and with your competitors. You need to see if your competitors are doing something better than you or if they're doing the same things you are but doing them better. You need to identify your competitors' strengths and weaknesses and find ways to overcome their weaknesses and turn their strengths into opportunities for you. You can do this by paying attention to what your competition is doing. You can also take a look at their websites, social media accounts, and marketing campaigns. You can study their content, engagement rate, and website traffic. You can also study their target audience, demographics, buying behaviours, and pain points. You can also use free and paid digital marketing tools to find out what your competitors are doing online. These tools will help you identify your competitors' top pages, keywords, and content. You can also use these tools to identify and find new audiences that are interested in your business.
Create a Content Marketing Strategy
This is where you need to create a strategy for creating engaging and relevant content. This is where you need to find ways to create helpful, useful, and valuable content for your audience. This is where you need to find ways to create content that your audience wants to consume. This is where you need to find ways to create content that is useful for your customers and potential customers. And remember that content doesn't always mean blog posts or articles. Content can be podcasts, ebooks, videos, webinars, images, newsletters, and many more. Content can be anything that is useful and valuable for your audience. When developing a content marketing strategy, you need to understand your audience's interests and needs. You need to determine the problems your audience has, and you need to find ways to solve those problems through helpful and useful content. You can use the SWOT analysis method to understand your audience and come up with a content marketing strategy that is highly engaging and valuable for them.
Develop an Effective Digital Marketing Strategy
Now that you have developed a content marketing strategy, it is time to implement it and make it happen. You can do this by creating a digital marketing strategy. Your digital marketing strategy should reflect your business goals and your content marketing strategy. It should include your online marketing tactics, your budget, your resources, and your goals. Your digital marketing strategy should include your brand's online presence and visibility, your website, your content and content distribution, your lead-generation campaigns, your social media presence, and your marketing automation efforts. Your digital marketing strategy should include your plans for improving your website's user experience, content, and design. It should also include your plans to establish yourself as an authority in your industry and a reliable source of useful information for your customers.
Summary
Now that you have read this article, you should be more confident about beginning your digital marketing journey. You should now know how essential it is to know your audience, define your goals, get to know your competition, and create a content marketing strategy. You should also now know how important it is to develop an effective digital marketing strategy. Digital marketing has changed the way businesses operate and interact with their customers. You can't afford to ignore the shift in consumer behaviour. This is the right time to begin your digital marketing journey.